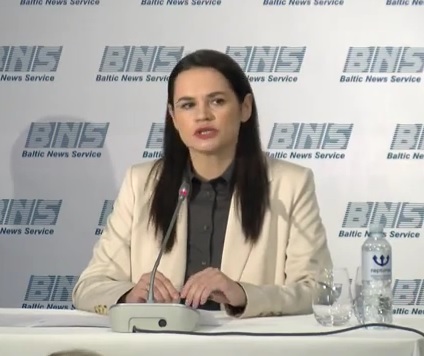 On August 24, the leader of the Belarusian opposition Sviatlana Tsikhanouskaya met with US Deputy Secretary of State Stephen Biegun.
Mrs. Tsikhanouskaya and Mr. Biegun discussed the political crisis in Belarus and Mrs. Tikhanouskaya expressed gratitude to the United States for their support of the Belarusian people, who demand respect for their choice .
"The election of 9 August was neither free nor fair. Mr. Lukashenko does not have the support of the Belarusian people or the international community. Every day he refuses to accept the will of his people merely prolongs the crisis and deepens it", — said Mrs. Tsikhanouskaya.
Mrs. Tsikhanouskaya also expressed her readiness to resolve the crisis through a dialogue on the peaceful transfer of power.
"We have always said that we are willing to speak and are committed to a peaceful solution. We are open to the mediation of international organizations to facilitate the dialogue. Also, we demand an impartial investigation of the crimes committed by the Belarusian authorities against its people", – said Mrs. Tsikhanouskaya. " At the same time, we call on all countries to respect the sovereignty and territorial integrity of Belarus. Only the people of Belarus will decide their future in a new fair and free election".
The meeting took place in Vilnius, Lithuania,where Mrs. Tsikhanouskaya fled after a violent crackdown on protest by the authorities in Belarus. Unjustified and inappropriate violence was used against citizens who peacefully protested against the rigged elections on 9 August. Several thousand people were detained, beaten, some were crippled. At least six people were killed. Dozens of people are still missing after the elections.