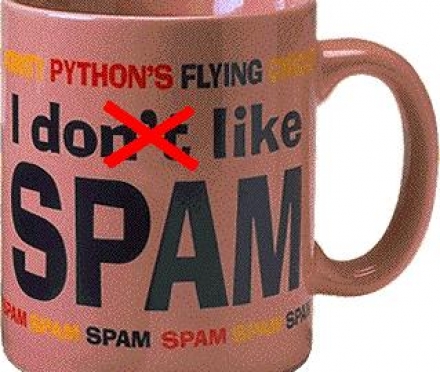 February 11, 2009
The amount of SPAM is on the rise in the world, and at this point it has reached a dramatic level, indeed. DEAC, a provider of outsourced IT services in Latvia, has studied the flow of E-mail among its clients, finding that over the last five years, the amount of SPAM has increased by more than 40%. In 2003, the proportion of SPAM was nearly 50% of all outgoing E-mail, but in 2008, more than 94% of it was SPAM. The new DEAC anti-SPAM system dealt with these easily and prevented them arriving in the E-mail inboxes of the company's clients.
The amount of SPAM has increased by 3.4% over the last year, according to the DEAC study.In 2007, 91% of all E-mail was SPAM, and in 2008, the proportion was up to 94.4%. Specialists concluded that the level of intelligence in those who produce SPAM has also increased. This makes it more difficult to filter SPAM, and there are more frequent instances in which SPAM lands in the client's inbox after all. DEAC says that of the 94.4% of E-mail that was SPAM in 2007, 76% was made up of so-called greylisted E-mail, 14.4% was outright SPAM, 2.8% represented SPF (Sender Policy Framework) rejections, and 1.2% had viruses.
In comparison, we can note that at the global level, 90% of all E-mail is span, and each day some 200 billion E-mails of this type are fired off around the world. The top three sources of SPAM are the United States, Turkey and Russia, which generate nearly 35% of all SPAM each year.
SPAM is often more than just annoying. It can cause real losses to Internet users " millions of euros in Latvian alone, because SPAM is a waste of time. People either read it or erase it, but that nevertheless takes time, as well as a great deal of the Internet network and infrastructure. If you use E-mail, you're paying for each incoming SPAM to a certain extent. SPAM can cause E-mail systems to break down, productivity decreases, and major financial losses are suffered by companies. The sending of SPAM, by contrast, costs virtually nothing.
"Those who send SPAM are constantly improving their technologies and looking for new ways to avoid filters. The technologies are new and much smarter now. The systems imitate positive E-mails, and the text is automatically generated in a unique way. The text can be provided as a photo, for instance. The SPAM filters into the user's E-mail and then sends SPAM to everyone in that user's address book," explains DEAC board chairman Andris GailÄ«tis.
"Anti-virus companies in the world say that without filters and other protection, the average Internet user can receive as many as 70 SPAM letters a day. "In order to avoid SPAM, I suggest that you refrain from publishing your private E-mail address on the Internet as much as possible. If you have to do so, then use two E-mail addresses, one to use in various Internet forms, the other just for private purposes. If your company receives a flood of SPAM, you must ask your Internet service provider to offer a proper filter. If that does not yield any results, then think about finding a new Internet service provider. Modern and more powerful anti-SPAM systems ensure maximal protection against undesirable E-mail," GailÄ«tis says in explaining ways in which the number of SPAM letters can be reduced.
SPAM is an undesirable, illegal, but very common form of advertising in the world. Without the user's permission, an E-mail containing advertising is sent to him or her. The biggest problem is that SPAM is annoying. Time has to be spent in deleting undesired letters. It sometimes happens that acceptable ones are deleted at the same time. SPAM also places an unnecessary burden on data transmission systems.
DEAC offers a wide range of outsourced IT services, including data centre services, servicing of computer equipment and IT, WEB page and system design, hosting services and consultations. The company has more than 2,000 clients, including the Bank of Latvia, Rietumu Banka, Danske Banka, Inbox.lv, One.lv, Tele2, Seesam Latvija, TV 3 Latvija, The Baltic Times, and other major projects and companies. DEAC is the official distributor of DELL solutions in Latvia, as well as an official partner of IT companies such as Microsoft, Avocent, APC and Doclogix.
Artis Babris, Marketing department assistant
Telephone +371-6707-2141
ababris@deac.eu, www.deac.eu