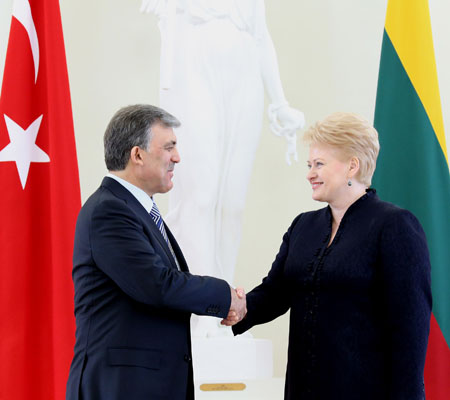 President Dalia Grybauskaitė met with the President of Turkey, Abdullah Gül, who has arrived in Lithuania for an official visit. The Presidents discussed possibilities to strengthen political and economic cooperation between the two countries and to develop business relations. In the run-up to Lithuanian presidency of the EU Council, the heads of state also touched upon the progress in Turkey's EU accession negotiations.
According to President Dalia Grybauskaitė, Turkey is an important partner of Lithuania, the EU and NATO. This country is the leader in the region, and now it is gaining more and more significance in the global and European economy, energy and geopolitics. Turkey has always been a major guarantor of security and stability in the Middle East.
"By strengthening ties with one of the largest states in Europe we open up new opportunities for Lithuanian people. Our cooperation in trade, transport and tourism is especially beneficial to our both countries. Turkey provides Lithuania access to a large market, while Lithuania can become a bridge connecting this country with Northern Europe and the Baltic region," President Dalia Grybauskaitė said.
During the visit a memorandum of understanding will be signed regarding Turkey's participation in the railway project Viking which connects the Baltic and Black Sea regions. After Turkey joining the project, Lithuania would become a bridge linking the southern and northern parts of Europe and would attract more attention and investments from Turkish entrepreneurs.
The President of Turkey in Lithuania is accompanied by almost 100 business representatives. Tomorrow the Presidents will open the Lithuania-Turkey business forum with a business contacts fair as its part.
Turkey's trade representation for the three Baltic States was opened in Vilnius last year. A new direct Istanbul-Vilnius route will be launched by the Turkish Airlines this summer.
The Presidents also addressed the EU-Turkey relations. During its presidency of the EU Council Lithuania will seek a constructive and mutually beneficial dialogue between the EU and Turkey. Lithuania fully supports Turkey's membership in the EU.
According to President Dalia Grybauskaitė, Lithuania's goal during its presidency of the Council of the EU will be to give a new impetus to the frozen negotiations between Turkey and the EU. The President stressed that effectiveness in the EU-Turkey negotiations depends on Turkey's progress in implementing key reforms. Lithuania will also seek progress in negotiating visa facilitation regime between Turkey and the EU.
Among the other issues discussed at the meeting was cooperation within NATO. The President thanked the Turkish leader for the support in establishing the Lithuania-based NATO Energy Security Center of Excellence and participation in the Baltic airspace protection.