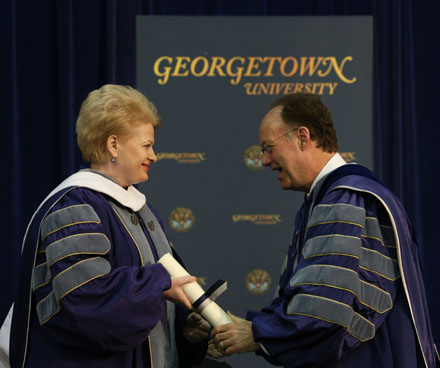 President Dalia Grybauskaitė was awarded the Doctor of Humane Letters, Honoris Causa, at Georgetown University. The honorary doctorate was conferred to the President for "political leadership, truth, transparency and responsibility."
In her acceptance speech, the President said that during 23 years of regained independence Lithuania had travelled a difficult but exciting road of success.
"Lithuania was at the forefront, breaking down the Soviet empire. We were the first to declare independence, the first to suffer harsh consequences – human casualties and economic blockade. We were learning by doing: how to build a country, how to make it function well. Having gone through all this, we are stronger now," the President said.
The ceremony gathered an audience of more than one thousand, including diplomats, university professors, and students. The citation in honor of President Dalia Grybauskaitė was delivered by Professor Angela Stent.
Addressing the ceremony gathering, the President underlined that difficulties made us stronger, responsibility – successful.
"Have the courage and responsibility to take decisions, no matter how hard or unpopular. You can correct mistakes, what you cannot correct is missed opportunities. And if you will be the first to be blamed for being too responsible, for looking too much for common sense and for being too honest, consider your career a success," the President said.
She stressed that Lithuanians were a creative, dynamic and determined people, not afraid of either challenges or changes.
"But it is not only basketball that defines us. Next time you edit pictures on your Apple device using Pixelmator, please know that the program was developed by Lithuanians. If you want to have the fastest internet in Europe, come to Lithuania. Or if you saw Michael Phelps overtaken by someone in the swimming pool, it could have been our teenage prodigy Rūta Meilutytė, a 16 year-old Olympic gold medalist," the President said.
Georgetown University is the oldest school of international affairs in the U.S. and the largest university of international studies in the world. President Dalia Grybauskaitė studied at Georgetown in 1992.
Among Georgetown University's honorary degree recipients are former U.S. Presidents Bill Clinton and Ronald Reagan, former UN Secretaries General Kofi Annan and Boutros Boutros-Ghali, President of the European Commission José Manuel Barroso, former German Chancellor Helmut Kohl, former U.S. Secretary of State Madeleine Albright, Queen Sofia of Spain, Liberian President and Nobel Peace Prize winner Ellen Johnson Sirleaf, President of Afghanistan Hamid Karzai, U.S. Secretary of Defense Chuck Hagel, outstanding economist Joseph Stiglitz, and others.