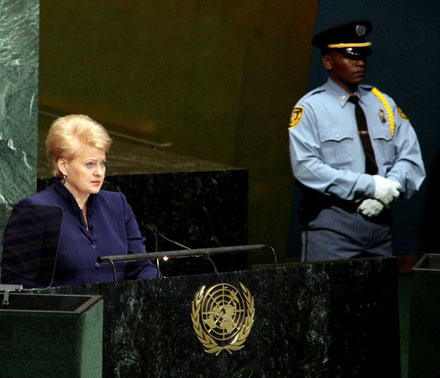 President Dalia Grybauskaitė, currently attending the General Assembly of the United Nations, called on the international community to prevent energy from being used as an instrument for political or economic blackmail.
At the debate of the United Nations where the world leaders discussed the peaceful settlement of conflicts, the President underlined that unequal distribution of energy resources in the world remains a very significant cause of contemporary conflicts.
"Limited accessibility to energy evokes the abuse of monopolistic position. Crises in oil and gas sectors serve to destabilize the political and economic situation around the world. Energy dependence can endanger the national security and wellbeing of small countries without their own natural energy resources, Lithuania among them," the President said.
Dalia Grybauskaitė urged the international community to set forth clear and universally binding rules to ensure equality in global access to energy and promote reciprocal solidarity in the enery sector.
The President also welcomed the initiative of the International Atomic Energy Agency to improve the existing system of nuclear safety regulations. The Lithuania-based Nuclear Security Center of Excellence is our country's contribution to strengthening global energy security, she emphasized.