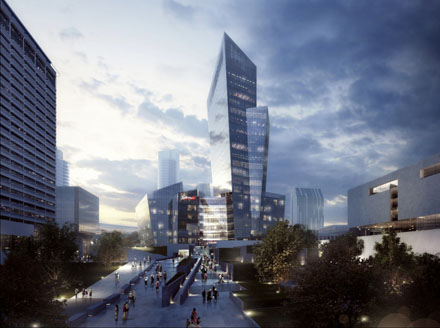 Swedbank in Lithuania has agreed with JSC Investmira, a subsidiary of Lords LB Special Fund I, a fund, managed by Lords LB Asset Management, on a EUR 30 million long term financing. The loan will finance the construction of a multifunctional complex in Konstitucijos av. in Vilnius, comprised of A class business center and a Radisson REDhotel, the first in the region. The complex was designed by D. Libeskind, one of the most renowned architects in the world.
"We are happy to contribute to this project, which is so unique in terms of its architecture and location in the city. Lords LB Asset Management has an excellent track record of launching and managing new properties, therefore we trust their vision and work. They give a great deal of thought to public spaces, which is critical, given the general layout of the city and comfort of its residents. This part of the city has been changing beyond recognition. It attracts new businesses, which will work in the newly built business centers, as well as tourists, who will be able to try out a Radisson RED hotel, which boasts a unique concept and is the first Radisson RED in this region. The management contract, signed with Carlson Rezidor Hotel Group, will further increase the sustainability of the project." says Martynas Trimonis, head of real estate clients division at Swedbank Lithuania.
In April 2016, a project, presented Studio Libeskind, managed by D. Libeskind, won an international architecture contest, held by Vilnius City Municipality, Lithuanian Union of Architects and Lords LB Asset Management, an investment management company. With 2 million pegged for the development of public areas, the total investment into the project will be around EUR 50 million.
"We are working coherently on this project. After considering several proposals, we choseSwedbank, one of the most experienced financial institutions in Lithuania, to finance the construction of this complex in heart of Vilnius business district. We expect this exclusive object to open its doors sometime before 2020." says Marius Žemaitis, a fund manager atLords LB Asset Management.
In June Vilnius City Council gave a green light to the construction of a multistory building in land plot in Konstitucijos av. 18B.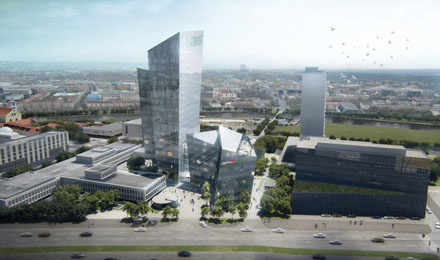 Lords LB Asset Management is an investment management company, licensed and supervised by the Bank of Lithuania. The company has been providing investment management services to institutional clients and high net worth individuals since 2008. Lords LB Asset Management manages 14 funds: 9 real estate funds, 3 private capital funds and 2 energy and infrastructure funds. The total value of assets, managed by the funds, reached 310 million euros at the end of December 2016.