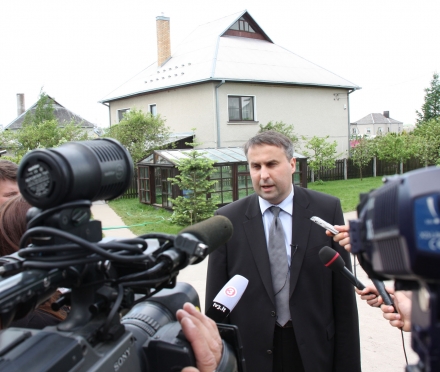 Today, on returning from a hearing, I read an appeal made by the bailiff, Marekas Petrovskis on the internet website 'Delfi' that the Venckai family should approach him.
Taking advantage of this opportunity, I would like to direct an appeal to the highest office bearers of the country – Her Excellency the President, the Honorable Prime Minister and the Honorable Chairman of the Seimas.
Indeed, since the last Friday, I've been witnessing the ongoing saga which amounts to a legal soap opera that has been running since November 2008, and this, the sequel which could be named "The unfortunate bailiff unable to serve a court ruling".
Since last Friday, that is May 14, 2010, the major role in this performance, I believe, is played by the bailiff Mr. Marekas Petrovskis who declares to all of Lithuania that the Kaunas District Judge, Neringa Venckienė will not accept the Kėdainiai District Court ruling and thus she should be held in contempt.
All week I was watching these developments, and turning to the highest leaders of the country, I want to say: is there a no force in Lithuania that can stop this pantomime? Maybe during the week, at least someone could read the Code of Civil Procedure, which clearly states that in cases where a procedural court decision cannot be served to the imputed, it may be served to a family member residing with him/her, i.e. a spouse.
I formally declare that since last Friday until today, for seven working days Marekas Petrovskis, the bailiff, did not contact me. Since last Friday – eight o'clock in the morning till 18-19 the evening I work at my law firm in Gruodžio Str. Probably many of your colleagues, namely journalists, yesterday interacted with me directly via phone. Throughout this period, the bailiff, Mr. Marekas Petrovskis did not attempt to contact me via phone or in person.
Maybe there is a person who can answer: why this was so? Isn't it obvious that the sole purpose of all this performance is to humiliate and vilify the Kaunas Regional Court Judge Neringa Venckienė.
Perhaps the highest leaders of the country can explain why no criminal investigation has been initiated against Laimutė Stankūnaitė since October 6 of last year despite the final ruling in this regard by the Vilnius District Court which is not subject to appeal.
Is it possible that Lithuania awaits the final episode of this farcical soap opera, which is scheduled for the next week, i.e. May 26, and yet again a slap in the face of the whole world " when the suspect Andrius Ūsas, Laimutė Stankūnaitė of "impeccable???" character and the traumatized toddling little girl arrive in the same car at the pedophilia trial in Panevezys District Court?
Hopefully someone can shed some light on these burning issues.
2010-05-20