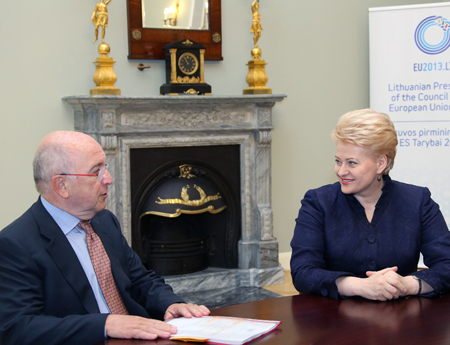 Just a few days ago Gennady Onishchenko, the head of the Russian consumer rights watchdog 'Rospotrebnadzor' called Lithuania a 'microscopic newborn' and with a clear tinge of political context threatened to stop the import of Lithuanian dairy products. When the threats began to be realized and the discussion was joined by Lithuanian President Dalia Grybauskaite, who declared that for such actions of Russia, the Lithuanian government should address the World Trade Organization, the statement by G. Onishchenko that previously was deemed political, suddenly transformed into a 'work type' one. As in, 'what is this whole 'hysteria' for? Where do you see the politics? Let's sit down without any intermediaries with the Lithuanian dairy farmers and make everything clear'.
Of course, at first glance, it may seem that the chase of Lithuanian carriers at the Russian border continuing for a month and now the 'milk war' (Russia is also threatenening with fish and meat wars) are a consequence of Lithuanian Presidency in the European Union and the Eastern Partnership summit to be held in Vilnius on 27-28th of November. Allegedly, Russia thus rages because Ukraine will sign a political association and free trade accord with the EU in Vilnius.
However, it is known among international diplomats (through leaked information) that the President of Ukraine Viktor Yanukovych talked with the Russian president Vladimir Putin on the phone about the association agreement between Ukraine and the EU for five or six hours. Five or six hours! On the phone. (So, there should be no surprises for Putin, right?). And so…
If this is true, and if Viktor Yanukovych discussed the Ukrainian Eastern Partnership summit in Vilnius question with Vladimir Putin in detail (during these hours), it is possible to assume that the causes of the Russian 'economic war' with Lithuania should be sought not only in geopolitics (where Ukraine and a few other former Soviet countries are to be accepted into the European club), but somewhere else as well. Where? Probably in Lithuania's strategy for energy independence, as well as in the European strategy of liberation from the Russian gas monopoly Gazprom (which is directly related to the war in Syria). Lithuania in this great European energy game is, albeit a small, but a very important part.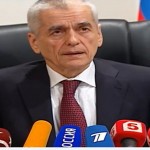 G. Onishchenko's threats – no coincidence
'To the microscopic newborn, which, admittedly, successfully makes statements where it speaks almost like an empire, we would like to advise to control the quality of the dairy products supplied to the Russian market, rather than shout strident demonstration-level statements for Russia' – these were the words by G. Onishchenko quoted by media on the 3rd of October.
The 3rd of October. The 'Zhirinovsky newborn' G. Onishchenko calls Lithuania a 'microscopic newborn' that talks 'almost like an empire', and warns that instead of shouting 'strident demonstration-level statements for Russia', Lithuania should urgently start taking care of the dairy products exported to Russia.
Please note – this is how G.Onishchenko snapped in Russia on the 3rd of October. One could think that he is talking about dairy products, but is he really? Let's see what happened on that day in Lithuania.
On that day, Joaquim Almunia, the Vice-President of the European Comission and Comissioner responsible for competition, was visiting Lithuania. It was his statement about the unfair Russian monopoly Gazprom that started the Russian rage with statements through the lips of G. Onishchenka and the economic war.
'We suspect that Gazprom has been hindering the free flow of gas across member states and the diversification of sources of supply (…). We also suspect that Gazprom had charged unfair prices for consumers'. This is what J. Almunia said in Vilnius on the 3rd of October.
For the unfair prices, Gazprom could be penalised up to 10% of annual revenue, that is, €10-12bn.
Lithuania is only one of the countries who complained about the political, that is, enlarged Gazprom prices. The investigation on Gazprom gas sales dishonesty is carried out by the European Commission on the grounds of complaints from Lithuania, Latvia, Estonia, Poland, Czech Republic, Bulgaria, Slovakia and Hungary.
In addition, during that same visit to Lithuania, on the 3rd of October, the Vice-President of the European Comission J. Almunia said that Gazprom soon would face allegations for overcharging consumers.
'Any company operating in collective market, regardless of where its headquarteres are, and who manages it, must follow the rules' said J. Almunia.
'Unfair gas prices are damaging the competitiveness of all the EU. When there is no alternative gas supply and competition, consumers – both ordinary people and businesses – are forced to pay the price dictated by the monopoly. This stops the sustainable economic development, the country's economic growth and reduces people's well-being'. This is what the Lithuanian President said after the meeting with J. Almunia.
And this is the statement by D. Grybauskaite that G. Onishchenko called 'strident demonstration-level statements for Russia'.
Then a question arises: why the 'Zhirinovsky newborn' responsible for the quality of dairy products was suddenly irritated by the statements of Gazprom's unfairness and its pricing policies, and Gazprom facing allegations of billion-worth fines? Is it not because 'a la milk' and similar wars have to cover the dirty games played by Gazprom in the EU, on which the European Commission is carrying out an investigation (as well as Gazprom's power holding in the ongoing gas war in Syria)? That is just directing fire in other words.
After successful trolling – retreat
Let's see what we have next.
On the 7th of October, as soon as the Lithuanian President D. Grybauskaite stated that the Government should appeal to the World Trade Organization for the Russian pressure on Lithuania's business – which means Russia's trolling was successful, the Russian troll G. Onishchenko took a step back the same day (obviously keeping a very close eye on what is happening in Lithuania): supposedly, where are these public political statements? And in general, do politicians have anything to do with this? See, we will sit down by one table with all Lithuanian dairy farmers and work everything out.
'So far, we have not yet reached even the rudimentary step forward. Let's sit down and work everything out. We hear some kind of psychopathic statements, someone practicing the art of literature, expressing pompous statements. In addition, it is done by the people who, in my opinion, should control the quality. Therefore, this hysteria, and the impotence both political and executive, demonstrated by this young state's authorities, predisposes us to say: remembering the experience of our former compatriots, including Lithuanian, we better sit down with the processors and discuss things.' said G. Onishchenko to one Russian TV channel on the 7th of October.
Compare: on the 3rd of October, this 'Zhirinovsky newborn' called the statements by Lithuania's highest officials 'strident and demonstration-level', yet on the 7th of October these same statements had become psychopathic.
Unfortunately, the reality is quite different: with regards to Lithuania, it is Russia that demonstrated its 'psychosis' with this kind of pressure.
And it may well be that it is for Gazprom.
War in Syria – 'war' in Europe
It is very strange that the patriotic Lithuanian media, swinging and expanding the 'milk war' theme, quoting each 'Zhirinovsky newborn's' bottom blast to Lithuania, ignores what has been trumpeted in Russian media for already over a year: that the Syrian war is a gas war.
If someone would analyze the Russian media, one would find very interesting and important information: the Russian media talks openly about the fact that Russia defends Assad's regime in Syria for one reason – to protect Gazprom's interests in Europe. How should this be understood? Very simple.
Qatar, which our President Dalia Grybauskaite visited in late April 2012 and where during a meeting with Qatari Emir Sheikh she discussed the supply of raw materials to the under-construction liquid petroleum gas (LPG) terminal in Klaipeda, is a state with huge natural gas reserves. Their recovery in Qatar has increased from 25.4 to 151.4 billion cubic meters in over 10 years, but so far, the Emirs of Qatar had to sell their national value almost exclusively in the liquefied form. According to these indicators Qatar is the world leader. But…
The production of LPG gas is very expensive. The price of this type of gas factory is more than 5 billion dollars, also expensive transport and buildings of special re-gasification terminals contribute to the expenses. In other words, gas liquefaction process makes all the process more expensive and in turn, raises the final price of gas. In this case there is the only one way out – the pipeline.
Europe is tired of boorish and aggressive policy of blackmailing carried out by the Russian gas monopoly Gazprom. But in order for Europe to be 'detached' from Gazprom and 'attached' to the alternative – the Qatari gas – a pipeline from Qatar is necessary. However, its planned route is through Saudi Arabia, Jordan and Syria (since the route through Saudi Arabia, Kuwait and Iraq is unstable). However, while Syria is governed by Assad, Russia's Gazprom is not threatened by a pipeline from Qatar to Europe and losing the role of monopoly in the gas market is unlikely.
'Russia defends Gazprom interests in Syria', 'Russia will not allow Qatar and the United States to cut off Gazprom from Europe', this is the main message circulating in Russian media for over one and a half years on articles about war in Syria.
It is by looking through this prism that it becomes clear what is actually happening here in Lithuania. Why even to the dairy specialist G. Onishchenko it is painful when the Vice-President of the European Commission speaks of the unfair Gazprom gas prices and of anti-trust investigation in Gazprom in Vilnius.
In Joint Strategy there's Lithuania also
Without any doubts, Lithuania alone in front of the Russian giant Gazprom is just a small mouse next to the giant elephant. The amount of gas Lithuania purchases from Gazprom, as compared to other countries, is not big either. That is true. However, if we try to see a wider and fuller picture – the common European Union policy; the fact that energy independence plans are not only of Lithuania, but a strategy of the entire EU (the reason why there is the gas war in Syria); also remembering Grybauskaite's visit to Qatar and the currently under construction LPG terminal in Klaipeda, and all the interruptions to this project (once again, coming from the East) – it becomes clear that the main cause for 'choking' Lithuania is its pursuit for energy independence and opposition to 'violent' Gazprom policy both in Lithuania and through the European Commission.
Conclusion
In order to protect Gazprom's influence in Europe, so that the gas pipeline would not connect Qatar and Europe through Syria, Russia defended Assad's regime in every possible way and with its war weapons (visible and invisible), so we can imagine what force Russia will put to work in order to neutralize another focus unfavorable to Gazprom – this time in Europe, in Lithuania. And the closer to the Lithuanian presidential election, the hotter it will get.