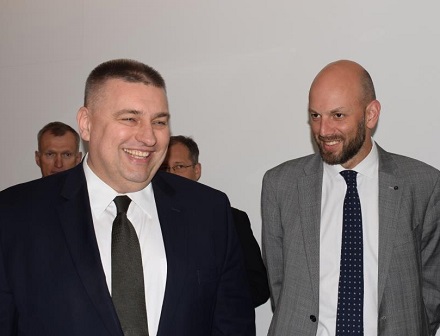 On June 5, 2018, the Ministry of Foreign Affairs of Lithuania hosted a meeting between the Deputy Minister of Foreign Affairs of Belarus Oleg Kravchenko and the Vice-Minister of Foreign Affairs of Lithuania Darius Skusevičius.
A substantive discussion on issues raised by Lithuania with regard to the construction of a nuclear power plant in Belarus took place. Along with the statement of a number of significant disagreements in the assessments of the Belarusian and Lithuanian sides, Deputy Minister of Foreign Affairs of Belarus Oleg Kravchenko informed about the necessary security measures that takes Belarus during the construction and future operation of its NPP, about the fulfillment of international obligations and appropriate interaction of Belarus with the related international organizations, including cooperation with the IAEA, as well as about the ongoing process of reviewing the results of stress tests of Belarus NPP during the partner verification, which is conducted in accordance with the obligations voluntarily accepted by Belarus and in accordance with the algorithm agreed with the European Commission.
The current state of affairs and prospects for the development of Belarus-EU cooperation was also discussed. In this context a discussion on human rights issues took place.
As part of the discussion of the Belarus-Lithuania relations, the sides noted mutual interest in maintaining a high level of economic cooperation and underlined the importance of holding regular Belarus-Lithuania economic forums, the 14th of which will be held in Vitebsk on June 7-8, 2018.