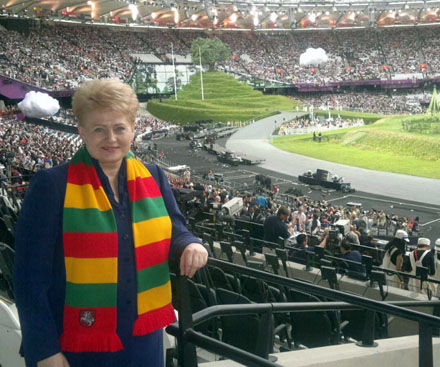 President Dalia Grybauskaitė is attending official events of the 2012 Summer Olympic Games. The President participated in a reception at Buckingham Palace at the invitation of Queen Elizabeth II.
During the reception, the Lithuanian leader communicated with Queen Elizabeth II and members of the Royal Family, Prime Minister of the United Kingdom David Cameron, and Germany's new President Joachim Gauck whom she invited to pay a bilateral visit to Lithuania.
The President also met with the Grand Duke of Luxembourg, the Presidents of Iceland, Switzerland, Latvia, Finland, Bulgaria, Cyprus, Azerbaijan, Georgia and Kazakhstan, the Heads of Government from Ireland, France, the Netherlands, Estonia, Russia, Moldova and Pakistan, UN Secretary-General Ban Ki-Moon.
After official reception at Buckingham Palace, the Lithuanian President went to watch the Opening Ceremony of the London Olympic Games.
"Olympics are the highest evaluation of human will and sportive capacities. Resolve, hard daily work, skills and excellence of athletes show us an example how to strive for goals. Based on respect, friendship and competence, the Olympic Games open new opportunities for development and advancement and are a global celebration of sport, human ideals and friendship," the President said.
The agenda of the President's visit also includes a meeting with Lithuanian athletes in the Olympic Village to whom she will hand over a symbolic Olympic torch brought from Lithuania.
The President will watch Giedrius Titenis' swimming in 100 m qualification competition and – together with Lithuanian basketball fans – a men's basketball game between Lithuania and Argentina at the Olympic Basketball Tournament.