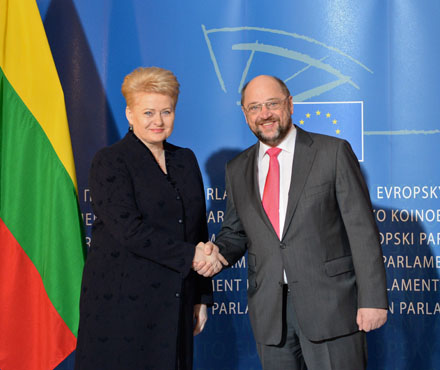 In Strasbourg, President Dalia Grybauskaitė met with European Parliament President Martin Schulz and presented the results of Lithuania's Presidency of the Council of the European Union at a plenary session of the European Parliament.
This is the closing event of the Lithuanian EU Presidency. Traditionally, leaders of presiding countries at the beginning of the term present key priorities and later, on closing, performance results of their presidencies to Euro-parliamentarians of the 28 member states who directly represent 500 million European citizens.
The President underlined that over six months of its presidency Lithuania had successfully risen to the challenge. We did everything expected of us and more.
"I am proud that our country has shown it too can carry out the tasks of an EU Presidency as well as any other member state that has been part of the European Union for many years. Lithuania's EU Presidency was exceptional – we had to cope with twice the usual workload and also to withstand external pressures. I am delighted that we have worked with a sense of purpose, successfully resisting attempts to put us off our stride, and have achieved more that we were set to do, the President said.
According to the President, landmark decisions to promote economic growth and people's well-being have been adopted that helped put the Union on the right track. Europe now needs to continue the work started.
Key outputs of the Lithuanian EU Presidency, she noted, include a timely deal on the EU budget for 2014, progress in building the banking union and integrated EU internal energy market. During the presidency, agreement was also reached on the list of strategic energy projects, including six Lithuanian projects. Free trade talks were finished with Canada and launched with the United States of America. Mandate was received to negotiate investment protection with China.
These are pivotal decisions, according to the President, that will help effectively deal with the consequences of the crisis, advance EU's economic growth and financial stability, reduce unemployment and boost competitiveness. European citizens therefore are now waiting for further steps to translate these decisions into practice.
Open EU was one of the top priorities of the Lithuanian presidency. The November Summit in Vilnius has triggered historic changes in Eastern Partnership countries. EU association agreements were initialed with Moldova and Georgia and other important agreements were signed during the summit. Vilnius Summit has triggered historic changes in Ukraine where people clearly demonstrated their choice of democratic future based on European values.