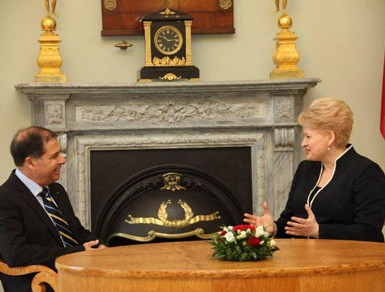 President Dalia Grybauskaitė met with President of the Republic of Malta George Abela, who arrived in Lithuania on a state visit. This is the first highest-level meeting of the leaders of the two countries over eighteen years since the establishment of diplomatic relations between Lithuania and Malta.
The leaders discussed the prospects for strengthening bilateral relations, the topical issues of cooperation within the EU framework, and negotiations on a new EU financial perspective. President Dalia Grybauskaitė underlined that Lithuania and Malta, having joined the European Union together eight years ago, had many common interests in the European context and would pool efforts to implement them.
"In the European Union we all are closely connected. We share common goals. Negotiations on the EU financial framework, energy security, agricultural and cohesion policies are the tasks important to the wellbeing of our countries and people, which need close mutual cooperation and support among the EU member states," President Dalia Grybauskaitė said.
According to the President, both countries, being dependent on gas imports, face serious challenges in the sphere of energy security. Lithuania and Malta strongly support Europe's decisions to complete the internal EU energy market and to end the energy isolation of some EU regions such as the Baltic States and Malta by the end of 2015. Malta, like Lithuania, also intends to build a liquefied natural gas terminal.
The leaders of the two countries also agreed to enhance business relations and bilateral cooperation in the field of new technologies. In Lithuania, Malta's President is accompanied by a delegation of Maltese entrepreneurs. The agenda of the visit includes a bilateral business forum and the signing of two cooperation agreements – the first between "Malta Enterprise" and "Enterprise Lithuania", and the second between the Association of Lithuanian Chambers of Commerce, Industry and Crafts and the Malta Chamber of Commerce, Enterprise and Industry.
The President stressed that direct flights from Kaunas to La Valletta, started in May, would also serve to promote a closer dialogue in the sectors of economy, culture and tourism.
The Presidents of Lithuania and Malta exchanged the highest state decorations of their countries. Dalia Grybauskaitė presented the Maltese leader the Order of Vytautas the Great. George Abela bestowed Dalia Grybauskaitė with the Order of the Xirka gieh ir-Repubblika.