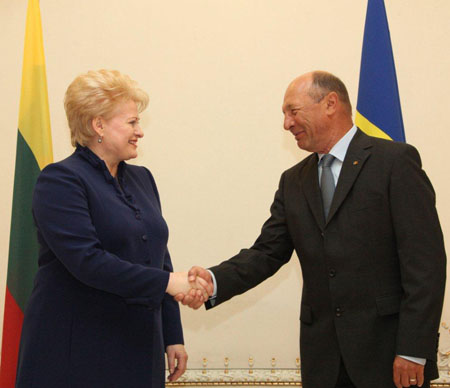 President Dalia Grybauskaitė, currently on a reciprocal official visit in Romania, met with Romanian President Traian Băsescu. The Presidents discussed the preparation for negotiations on EU's new financial framework, the projects important for their countries' energy security and independence, and the prospects for strengthening Lithuania-Romania economic cooperation and business contacts.
The meeting of the Presidents focused on the importance of political stability, financial discipline and anti-corruption measures.
"Political and financial stability is a prerequisite for the successful development of a country. The failure of governing authorities to agree on key priorities means lost opportunities to promote such development. Therefore, it is crucial for both Lithuania and Romania to assume financial discipline obligations, retain political stability and continue strategic projects," President Dalia Grybauskaitė said.
The President underlined that it was political stability that helped Lithuania to overcome the recession more rapidly and ensure one of the fastest economic growth in the European Union. Lithuania is among leaders in terms of the degree of the EU funds absorption and is ready to share its experience with Romania. Lithuania has already assimilated around 50 percent of the EU funds, while Romania has taken up only 15 percent.
According to the President, the EU support is highly important for the countries recovering from the crisis. However, Romania cannot use effectively the advantages of the EU membership due to frequent change of the government – three prime ministers have rotated during half a year. Political stability, responsible dealing with finances and continuity of works are the conditions necessary for economic growth.
In the upcoming negotiations on the EU financial perspective 2014-2020, the heads of state of Lithuania and Romania will seek jointly to achieve a fairer allocation of EU payments to the farmers of new and old member states as well as elimination of discriminating reduction of structural support.
Lithuania and Romania will also cooperate in their efforts to stop as soon as possible the energy isolation of separate EU regions, in the energy and nuclear security matters, and in ensuring an alternative gas supply.
The future Europe's southern gas corridor via Romania and the Nabucco gas pipeline can open new gas import opportunities for Lithuania.
In the afternoon, President Dalia Grybauskaitė will discuss Lithuania-Romania cooperation prospects with Romania's Prime Minister Victor Ponta and President of the Senate Crin Antonescu.